In the brief digital period in which we are, virtual presence is essential for all spokes of life. Either through a website or an application, every entity needs to be present on the digital front to cater to its audience effectively. Part of this online presence also depends on the efficacy of the presentation, where the content comes into play. Today businesses employ sound content management systems like WordPress, WooCommerce, Shopify, Joomla, Drupal, Magento, PrestaShop, etc to create and manage their website. Now, the rapidly progressive technology has taken a leap towards Headless CMS and in this blog, we will jot down how and why it is beneficial for your website. So let's dive down without further ado!
What is a CMS?
A content management system or CMS is software that enables users to create, modify, and manage content on the website irrespective of prior expert technical know-how. Hence, CMS is a tool that enables you to build a website without requiring you to write the code right from the scratch, moreover, you may not know coding one bit. Thus, you need not have to create web pages, store images, and build other functions of your website, rather the CMS will create this basic infrastructure of your website for you, curtailing your hassles and giving you time to focus on the more pressing aspects of your business. 
For example – if you start jotting down your content on WordPress, the interface will make you feel like you are writing it in Microsoft Word. You don't have to write a static HTML file and upload it to your server, all you need to do is write your content on a simple interface. Similarly to upload a media file, one simply has to browse the media library and select the ones that they wish to show. Furthermore, this is not just backend work, the CMS shows your visitors, the content, exactly the way you want. 
Also read more on how to secure the wordpress website from different cyber threats.
A CMS is made up of two core components:
Content Management Application or CMA – this is the part that allows the addition and management of the content on the website.
Content Delivery Application or CDA – this is the backend that stores the data or content that you have fed as input in the CMA and shows it to the visitors. 
Together with these two aspects, the CMS maintains, administers, and runs your website. 
Now that we have established a brief overview of what a CMS is, for the sake of wariness, we shall now move forward to the advancement, of the Headless CMS. 
What is a Headless CMS?
A Headless CMS merely separates where the content is stored (body) from where it is presented (head). This enables one to share content on different interfaces, offering more flexibility. 
Basically, the "head" is where your content is presented, and where it ends up and the "body" is where the content is stored and authored. Headless CMS does not opine that there is no need for a "head" but one can choose which "heads" (outputs), one wishes to share their content to. 
Therefore, a Headless CMS gives the editors an interface where they can manage the content and provide that particular content with the help of an API for developers to conduct query and build applications. While some Headless CMSes enable you to host the entire solution on your own server and database, the majority, of Headless CMSs are Software as a Service or SaaS-based where the editors have to log into a particular web application, and then the APIs are hosted in a cloud-based backend.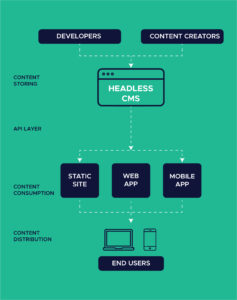 Advantages of Headless CMS 
The revolutionary Headless CMS can benefit your website in 2022, in terms of:
Editing Content 
While the traditional CMS has to spend significant architecture to content editing and rendering, the Headless CMS goes a notch ahead in simplifying this aspect, by not dealing with the content rendering at all, it rather now the burden of more specialized cores of your stack, making the editing experience faster than the traditional end. 
Managing Content
Going "Headless" the content is no more tied to a single presentation archetype, i.e your website. Rather it is enabled to find audiences on multiple channels, so you can use one CMS for both the app and website and even manage your admin or internal content in the same palace, extracting more value. 
Flexibility for Development 
Since Headless content plots over APIs, developers are free to choose frontend tools as per their personal preference. In addition to that, they also get the freedom to interchange parts of their stack and or switch from one framework to another, ceaselessly, without affecting the CMS. 
Thus, with Headless CMS and a diligent development team like ours combined, you can easily and efficiently create a website with structured content, increase your digital velocity with our robust systems that create and distribute digital content to multiple devices, applications, and channels, building better digital experiences than ever before.